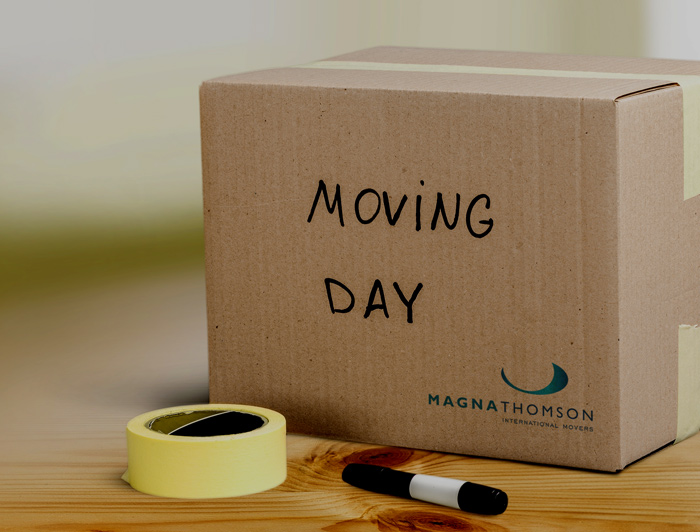 When do I need to book my move?
Most people request an estimate or quotation approximately six months before they move. This gives them time to budget. The actual move is normally booked up to three months in advance. It is, of course, possible to book moves with a much shorter lead time, but then you might need to be flexible with your packing dates.
Do I need a visa for overseas residence?
If you are a returning resident of your destination country with a valid passport for that country, you will be permitted to import household effects – and cars in certain cases – duty free. If you are South African, you will need a visa or a work permit valid for at least 24 months or permanent residence status to live and work in your destination country or import your effects and car.
How much will container shipping cost?
This is one of the most common questions, yet one of the most difficult to answer as there are so many variables. These variables include: your destination, how much you are taking with you, the shipping method e.g., FCL or groupage, what kind of insurance you choose, and the current exchange rate. We can only give you an accurate answer once we have done a survey of your belongings. This is a free, no-obligation service.
When do I pay for my move?
Payment is made prior to shipment departure, directly into our bank account.
Who will pack my effects?
Unlike packing for a local or domestic move, packing for export requires extra measures to keep your personal and household effects secure. For this reason, we recommend leaving the packing to the experts. Depending on the volume of your shipment, a crew of experienced packers and a supervisor will wrap and pack your belongings at your residence. The supervisor is fully briefed about your removal and its specific requirements and is on hand to ensure that a high standard is maintained and all operational documentation is completed.
Can I pack goods myself?
We do not recommend packing your personal and household effects yourself, as depending on the destination country, customs may scrutinise packed-by-owner effects which can lead to a delay. In a local household move, however, you can pack items yourself, and we are happy to provide cartons for this at a small cost. Many clients like to pack their own clothing, for example. Please note that, if you want to pack your books, please only pack them into small book cartons as standard cartons full of books are generally too heavy to lift. You also should not pack anything breakable as packed-by-owner items are only eligible for limited insurance cover.
How will you store my Personal & household effects?
Your effects will be stored in specially constructed timber storage pallet boxes and housed in our secure and purpose-built
storage warehouse
. These sturdy containers are dust proof and treated with Naphthalene to ward off fish moths, etc. We also have permanent pest-control measures in place.
Can I ship my guns?
No, not anymore: shipping lines now ban firearms in the container. You must obtain an Import Permit from your country of destination – handguns are normally not permitted to be imported into any country. Certain countries ban the importation of any weapons, so ask us for details first, please. Once the import permit is obtained, take it to SAPS in Pretoria along with: a certified copy of your Work/Permanent Residence Permit, the SAPS 300 form (cancellation of License to Possess Firearm), the SAP 311 form (application for Export Permit Firearm License), and a certified copy of your ID or passport. Note: Some countries do not issue import permits in advance. If an Import Permit is not obtained, SAPS at their discretion may still issue an Export Permit. You can normally obtain permission by pre-arrangement to have firearms locked into the cockpit of the airplane in which you travel.
Do I need insurance?
We strongly recommend this. Even though we take the greatest care to ensure the safe delivery of your personal effects, there is a small chance that some items may be lost or damaged due to the rigours of transport. We offer various insurance options as one of our services.
Do I need an overseas address before shipping my personal and household effects?
You do not need a delivery address to ship your personal and household effects, you should, however, know the town/city you are shipping to. Redirecting your shipment incurs additional costs, so it is usually better to be 100% sure of your destination.
How long will it take for my personal and household effects to arrive?
This depends largely on your final destination and whether you choose to get your own container (Full-Container Load or FCL) or whether you share a container with other clients going to the same destination (groupage). The average transit time for an FCL container is eight to ten weeks door-to-door. However, a groupage container can only be shipped once it is full, thereby giving each customer the benefit of a pro-rata price advantage. The travel time of a groupage container is almost always dependent on maritime traffic to the destination country at that moment in time. You do not pay for storage when your goods are awaiting shipping.
Please note that since the introduction of lockdown in 2020, there have been major shipping delays in the freight industry and shipments can take up to five months to arrive. We advise our clients to take this into account and only choose trustworthy moving companies. Reputable moving companies tend to receive more shipping requests, so they fill containers more frequently. Since containers only depart once they're full, this may slightly reduce shipping times, but this is not guaranteed.
Are my personal and household effects shipped door-to-door?
Yes, our quotations are normally house-to-house, including the unpacking and setting up of your furniture.  You might not want all your personal belongings unpacked immediately due to space restraints.
You can normally deal with this yourself in the week following delivery and our agents will collect the empty packaging when in your area. This does not invalidate your transit insurance, although should your house be broken into and the items stolen, this would not be covered. In Australia and New Zealand there is an additional quarantine inspection fee of all personal and household effects that enter these countries. The effects will be assessed and inspected by the Department of Agriculture and Water Resources, and fees are dependent on inspection time.  The United States of America can also conduct an intensive random security check of your effects, which can be very expensive.
Should I pack up and move on the same day?
Please, rather don't. A date is decided upon, prior to your departure, to ensure that all is packed and ready for shipping in ample time. We recommend reducing your stress levels by spending your last night in a hotel or with friends, rather than packing and leaving on the same day.
Can I take my car,motorcycle, boat or trailer with me?
Maybe.It depends on the country you are moving to. Some countries are more lenient on the import of these items than others, and it is important to make sure of all their requirements before embarking on this type of shipment. In certain countries you will need to pay duties and taxes. No matter the destination, you will need a Police Clearance and Export Permit because the item would have been registered in South Africa. A call to our office will answer any of the questions you may have.
What are packing fillers?
In an
international move
, the packing teams use soft and malleable items packed into the "cavity space" of cupboards, sideboards, wardrobes and the like. These are called fillers. Bedding, duvets, pillows, soft toys and inexpensive clothing like T-shirts are ideal fillers because they protect your effects and reduce packaging costs. Try to set these aside before the packing team arrives as it helps to speed up the process if these items are readily available.
What if I only have a few items to move?
Magna Thomson International Movers is happy to quote on any size of local, national or international shipment.
No matter the volume of your personal and household effects, our removal surveys and quotes are free and without obligation. For air freight, we recommend two cubic metres or less, anything more is usually sent by sea.
Can I store my belongings and how much does it costs?
If you are shipping in an exclusive container, you can store the container in South Africa for up to two weeks. If you want to store your goods for longer, they can be stored in palletised boxes in our warehouses in Johannesburg, Durban or Cape Town. Storage costs are based on the value of your shipment as well as the required storage period. Alternatively, you can store your goods overseas, but you will have to pay a handling charge and storage rates are more expensive.
Contact us
for storage rates in South Africa and overseas.
What value should I declare for insurance?
Always insure for the full replacement value at destination, whether it be national or international. In instances where it is difficult to find an accurate replacement value, we recommend having the items assessed by a professional for the most accurate value. If you book your move with us, we can refer you to a valuator.
How do I value my effects at destination?
Your effects must be insured for their full replacement value at destination. Arriving at a true value is not always easy, as there are many household and personal effects that are indigenous to South Africa and therefore not readily replaceable overseas. Likewise, sentimental items may often be priceless and simply cannot be replaced. We recommend that you draw up an inventory of all the items to be shipped with known replacement values against all the items on your list. For the remaining items that you are unsure of, these values could be obtained through online shopping services or the major retail store websites in that country. If you have booked your move with Magna Thomson, our move coordinators will be happy to assist you with these websites or direct you to professionals who can assess the value of your more valuable items.
Is it better to store my goods in South Africa or at my destination?
The answer to this question is determined by two main factors.
Convenience: if you need your effects soon after they are released from storage, then overseas storage facilities are more practical. If you can wait while your effects travel to your destination, then storage in South Africa is the better option.
If you are unsure about the timing of your move, or your housing arrangements abroad, Magna Thomson recommends storing your effects in South Africa until you are more settled in your new destination.